Summary
Microsoft stock has been on a nearly unimpeded rally over the past two years and has beaten the S&P by a wide margin.
But in this time, Microsoft's earnings haven't grown much at all. Earnings growth is weighed down by declining margins, the strong U.S. dollar, and slowing emerging market growth.
At 19 times forward earnings, Microsoft stock is valued at levels not seen in years. As hard as this is to say, I think Microsoft is overvalued right now.
Tech giant Microsoft (NASDAQ:MSFT) has traditionally been one of the cheapest blue chip tech stocks. For many years, Microsoft was dogged for its over-reliance on the personal computer, and this pervasive bearishness kept its valuation multiples at low levels, frequently in the low double-digits.
That is, until recently. Thanks to the advancements Microsoft has made in growth areas like the cloud, investors have rewarded the stock with a lofty valuation multiple.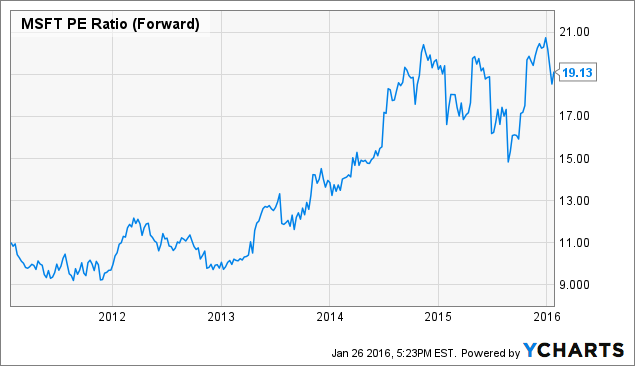 After a prolonged period of trading in a relatively tight range, Microsoft stock is up 26% in the past year, while the S&P is down 5% in the same time. Investors have recently become very enthusiastic about the future growth possibilities, but the reality is that Microsoft's earnings growth hasn't kept up with rising expectations. The result is that at this point, Microsoft trades for a higher valuation than it has at any point in the past five years.
I wrote about Microsoft several times in the past year, including this article in April and this article in July, in which I advised investors to buy the stock because of how cheap it was. Microsoft has performed strongly since those recommendations. Now that the stock is at $52, it's no longer cheap. I believe buying at this level will set up investors for only mediocre annualized returns going forward. I can't believe I'm saying this – but Microsoft appears overvalued.
Earnings Aren't Keeping Pace With The Stock Price
To be sure, Microsoft is no longer the same company that traded for a 10-12 forward P/E. It has made demonstrable progress in breaking away from the PC, and has made huge inroads into higher-growth areas. Due to the success of cloud-based platforms like Office 365 and Azure, Microsoft's commercial cloud revenue soared 96% in the fourth quarter of fiscal 2015, and has now exceeded an $8 billion annual run rate. Microsoft's revenue growth in recent years has been impressive: the company grew revenue by 7.8% in fiscal 2015, and by 11% in fiscal 2014.
The problem is that Microsoft has had to spend increasing amounts of money to obtain this revenue growth. This has weighed on Microsoft's margins and the result has been weak, almost non-existent earnings growth. Even when excluding the billions in impairment charges taken against GAAP earnings in the past few years, Microsoft's adjusted non-GAAP earnings have flat-lined. For example, Microsoft earned $2.62 per share in 2013, $2.64 per share in 2014, and $2.63 per share in 2015.
Microsoft hasn't gotten off to the best start in fiscal 2016 either. Revenue declined 6%, while earnings grew just 3% in the first quarter, year over year. Microsoft is getting hit by many of the same headwinds that are causing other tech stocks to plummet – namely, the strengthening U.S. dollar – and slowing economic growth in emerging markets like China. But while most other tech stocks are declining to reflect these challenges, Microsoft shares keep rallying. That should be a concern to investors buying at these levels.
Microsoft has beaten the S&P 500 by 37 percentage points in the past two years, despite virtually no earnings growth in that time. That has elevated Microsoft's valuation to levels not seen in years. At 19 times forward earnings, expectations are simply too high. The other adverse effect of Microsoft's bloated valuation is that it has lowered the dividend yield, to 2.5%. In other words, investors aren't getting a very good buying opportunity at this price, either from a value or income perspective.
Microsoft: Good Company, Not-So-Good Stock
What made Microsoft such a compelling buy in my previous articles – its dirt-cheap valuation and 3%-3.5% dividend yield are no longer there. Microsoft remains a highly profitable company. But there are many cases in which a strong company can amount to a poor investment if too high a price is paid for its future earnings growth.
The great thing about buying great companies when they're cheap is that the future expectations are so low that the company doesn't have to get everything right in order for investors to earn decent returns. That's why Microsoft stock was a much better buy when I wrote about it in previous articles. Expectations were very low, and the dividend yield was much higher, which meant the future return potential was greater. However, the flip side of this dynamic is also true: Microsoft now has higher expectations than at any point in the past five years.
At 19 times forward earnings, I believe the stock doesn't offer much of a margin of safety. As a result, I'd wait for a decent pullback of 10%-20% – at least to a forward P/E multiple in the mid-teens – before jumping in.
Disclaimer: This article represents the opinion of the author, who is not a licensed financial advisor. This article is intended for informational and educational purposes only, and should not be construed as investment advice to any particular individual. Readers should perform their own due diligence before making any investment decisions.
The above article originally appeared on Seeking Alpha, written by Bob Ciura.