Summary
Despite pleading by analysts and Carl Icahn, investors aren't going to suddenly start valuing AAPL differently.
But with ~$200 billion in cash, AAPL can force investors to view and value the company differently.
Acquire FIT to dominate the $70 billion wearables market.
Acquire PAY to vertically integrate and dominate the $210 billion U.S. mobile payment market.
Acquire WATT and Ossia (private) to dominate the IoT market.
Michael Santoli didn't waste any time after our panel discussion on CNBC's Closing Bell last week to chide Drexel Hamilton analyst Brian White – again – for suggesting investors need to "look at Apple (NASDAQ:AAPL) through a new lens" and value it appropriately.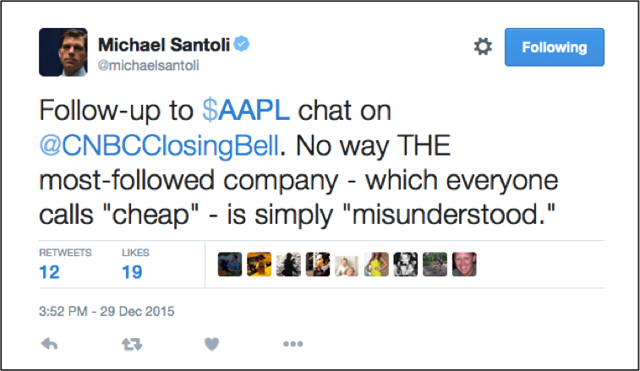 I agree wholeheartedly and said so later in the segment.
You'll recall, billionaire Carl Icahn peddled a similar line of reasoning to White's in early 2015 to no avail. In an open letter to Twitter (NYSE:TWTR) followers, he wrote:
It seems to us that the market is somehow missing a very basic principle of valuation: When a company's future earnings are expected to grow at a much faster rate than that of the S&P 500, the market should value that company at a higher P/E multiple.
On the surface, White and Icahn's argument sound logical. The only problem? In Apple's case, reality trumps logic.
Apple has grown earnings faster than the market for years. Yet the stock has seldom commanded a premium market multiple. In fact, since the end of 2011, it has actually traded at an average discount of 23% to the S&P 500 P/E ratio, based on Morningstar data. And if we strip out Apple's cash, the discount is even more pronounced.
No matter how hard a sell-side analyst, and even a billionaire try, investors aren't going to suddenly start valuing Apple differently. Not in its current form.
So what would it take?
Armed with over $200 billion in cash, I can think of at least three moves the company could make to change the narrative and in turn, the valuation.
Move #1: Acquire Fitbit (NYSE:FIT) to own the wearables market from top to bottom.
The wearables market is on fire. In the third quarter, unit sales increased almost 200% to 21 million, according to IDC. No doubt, fourth quarter numbers will be similarly strong, thanks to the holiday shopping season.
There's no end in sight to the growth either. Gartner predicts the wearable tech market will expand at a compound annual growth rate of 49% through 2020. In terms of unit volumes, IDC estimates 72.1 million wearable devices will be shipped this year, rising to 155.7 million units in 2019.
Fitbit has benefited handsomely from this robust trend, commanding the majority of the market share. But let's be fair. It's done so because of a lack of any true competitors. That's no longer the case. In fact, as I've argued before, Fitbit is in jeopardy of becoming the next one-product tech wonder, a la GoPro (NASDAQ:GPRO). It would be wise to sell out to Apple at this point.
It's worth noting that Fitbit only sells basic wearables – a category that's expected to lose share over the next few years, leaving Apple poised to become the next market leader for all wearables. – IDC
For Apple, the acquisition would allow the company to dominate the wearables market from top to bottom. (The only device cheaper would be the Mi Band fitness tracker from China's Xiaomi).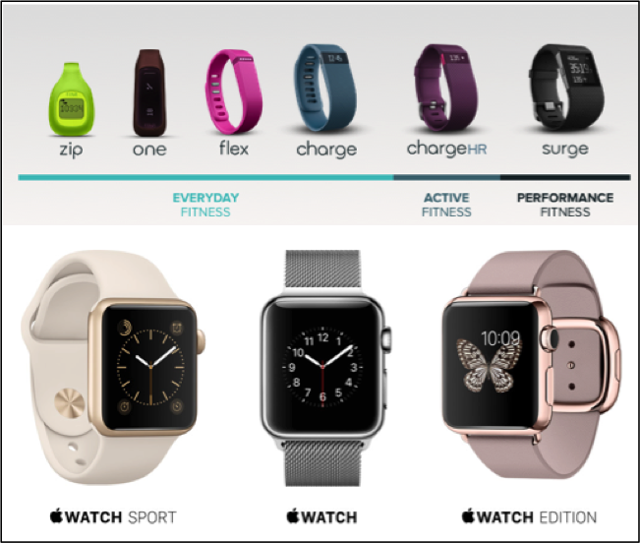 Source: Company Websites
I know, I know. Apple is a stickler for design and Fitbit's product lineup hardly fits into Jony Ive's aesthetic. But that's a design challenge I'm certain Apple could tackle in a couple of quarters, post-acquisition.
Even if Apple paid a princely sum of $10 billion for Fitbit, it would be worthwhile, given the wearables market is expected to ramp from $20 billion this year to almost $70 billion in 2025, according to IDTechEx. All told, the move could boost Apple's top line growth by up to 10%, as the wearables market takes off.
Move #2: Acquire VeriFone Systems (NYSE:PAY) to vertically integrate – and dominate – the mobile payment market.
According to a new forecast from eMarketer, mobile payments at point-of-sale (POS) terminals are set to explode from $9 billion this year to more than $27 billion in 2016. That's a 200% year-over-year increase and represents an acceleration of the 125% growth rate expected this year. By 2019, mobile payment volumes are expected to eclipse the $210 billion mark – a 2,233% over current levels. And that's just in the United States.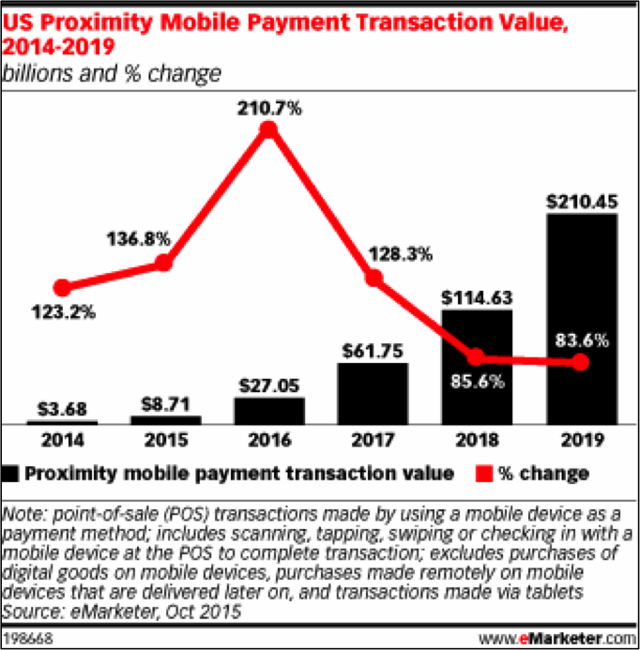 Source: eMarketer
I've long viewed Apple as a strong play on mobile payments. In fact, I predicted that the company would enter the market on CNBC's Closing Bell in January 2014 – well ahead of the official October 2014 announcement. As expected, Apple Pay is off to a solid start.
Roughly, 20% of consumers with an iPhone that supports Apple Pay have used it, according to Trustev. Over time, usage is bound to increase because Apple Pay possesses the three main ingredients to captivate the masses – familiarity (i.e., brand recognition), simplicity, and security.
The switch to chip-and-pin technology (known as EMV) promises to provide a near-term bump in adoption, too. In short, the status quo is changing from a simple swipe of a credit card to a lengthy 15-second (or more) process. Suddenly, a motivation for consumers to make the switch to mobile payments en masse exists because it's much quicker.
By acquiring VeriFone, Apple can accelerate its market penetration and assert its dominance by positioning itself on both the consumer side and retailer side of the mobile payment boom.
VeriFone is the global leader in secure electronic payment solutions. It makes the POS terminals, which support the new credit cards with chips, as well as NFC. At the end of 2014, around 28% of merchants worldwide used NFC-enabled POS terminals. But by 2020, Berg Insight estimates that the number will hit 70%. Put simply, the company represents a pure-play on the hardware side of the mobile payment boom, which is in the midst of a massive upgrade cycle.
Again, let's assume Apple pays up for the acquisition. A purchase price of $5 billion, equal to a 60% premium, would conservatively add 7% to 10% to Apple's top line growth, based on current revenue estimates for both companies.
Move #3: Acquire wireless charging companies Energous (NASDAQ:WATT) and Ossia (privately held) to solidify dominance in the mobile market and enable dominance of the Internet of Things ("IoT") market.
In case you haven't noticed, incremental innovations in smartphones don't provide sustainable competitive advantages anymore. Within roughly one design cycle, whatever Apple rolls out (Force Touch, for instance), Samsung quickly follows (see here). And vice versa.
However, being able to ditch the power cord and charge mobile devices at a distance of 15 feet (or more) would be a true differentiator. That's possible with the technologies being brought to market by Energous and Ossia. Although each company's approach is different (pocket-forming vs. multipath calibration), both deliver wireless power over radio frequency ("RF") waves. Yes, there are regulatory risks involved with transmitting power over RF. But who better to address and overcome those concerns with the FCC than Apple?
Obtaining wireless charging capabilities to cement its dominance in the mobile market should be viewed as a defensive move, as much as an offensive one for Apple. If it doesn't acquire these companies, Samsung or Xiaomi easily could given the cheap valuations.
Beyond that, Apple should make a move to own wireless charging technology (and the intellectual property) to give it the opportunity to dominate the IoT market.
No matter what estimate you choose for the number of internet-connected devices expected – 21 billion (Gartner), 34 billion (BI Intelligence) or 500 Billion (John Chambers, former CEO of Cisco (NASDAQ:CSCO)) – it's clear the IoT is arguably going to be the "Biggest Thing Ever."
Before it becomes a reality, though, five barriers loom large (security, privacy, connectivity/interoperability, decipherability and electricity). I believe the most critical barrier to overcome is the last one. The prospect of regularly changing batteries on billions of devices is daunting and highly impractical as a permanent solution, to say the least. Hardwiring every IoT device isn't feasible, either. As a result, all roads lead to wireless charging.
Energous is the closest to providing a solution to overcome this barrier. Not only has it already attracted a Tier 1 partner, rumored to be Samsung or possibly even Apple, it's only a few months away from having a commercially ready chipset to be incorporated into wearables, IoT, and mobile devices.
The reason it makes sense for Apple to acquire Ossia, too, is simple – doing so allows the company to own all of the relevant IP for wireless charging at a distance via RF. Not to mention, Apple can do so on the cheap. Energous currently trades at a market cap of about $131 million and Ossia has only raised $24 million in financing, likely pegging its valuation at much less. That's a pittance for the potential to dominate the IoT market.
Bottom Line
As the largest company in the world, Apple can't afford to only be a leading player in its end markets. It needs to dominate every market it serves. And the only way to change the narrative and convince investors to start valuing the company differently is to start dominating more markets. That process can begin if Apple makes any or all of the noteworthy and logical acquisitions above.
Without any of the acquisitions, I'm still bullish on Apple, just not as bullish as before. I've been banging the table to buy since January 2014. Back then, the stock traded around $72 (split adjusted) and it's up about 50% over that period. If the company can keep "blocking and tackling" in the iPhone business (upgrades, Android conversions and international expansion) – and deliver a better-than-expected holiday quarter now that analysts have universally lowered iPhone expectations – shares could reclaim their 52-week high in the year ahead, representing about a 25% upside to current prices.
The above article originally appeared on Seeking Alpha, written by Lou Basenese.