Summary
The recent earnings report indicates the company is healthy & profitable but running out of time.
Nintendo profits are declining and growth has stalled while we wait for mobile and NX.
Investment in Nintendo today is an entirely speculative bet on the NX and the mobile strategy.

Summary of Earnings
Nintendo(OTCPK:NTDOY) has just released its earnings from APR-DEC 2015 (FY3/2016). The overall report shows that the company is healthy, with significant cash reserves (about $4.6b at today's exchange rate) and very little debt. Net sales YoY are mostly flat, gross profit margin is trending up (but net profits are down), and the company continues to rely on a very small portfolio of first party games to generate the majority of their revenues. Also, the amiibo toys have sold unbelievably well with 20.5m figures sold and 21.5 card-type units moved.
This is a transition period for Nintendo as they milk their existing software and hardware and prepare for the transition to Mobile and the NX platform. Nintendo's net income will likely continue on a downward tend until the mobile/NX strategy is implemented.
(click to enlarge) – SOURCE

Hardware and Software Numbers
Hardware and Software sales were decent considering the lack of major holiday releases. Unfortunately, the software library of the Wii U is likely about 95% complete and 2016 will be the last year with any meaningful new releases for the console.
3DS Hardware and Software numbers were:
5.88m and 38.87m respectively.
Wii U Hardware and Software numbers were:
3.06m and 22.62m respectively.
Lifetime numbers for both consoles are in the graphic below.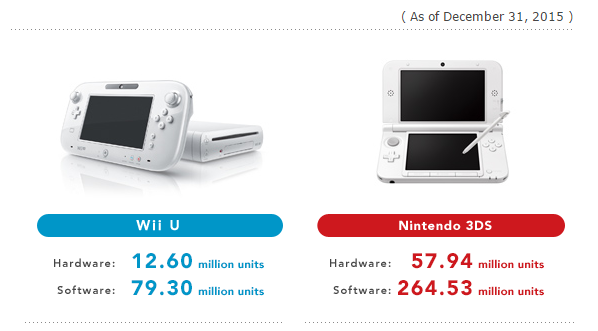 Wii U
The struggling Wii U got a lift from Splatoon and Super Mario Maker which sold 4.06m and 3.34m units respectively, very impressive numbers considering the installed base of the Wii U is only 12.6m units total (as Comparable to PS4 – 36m, Xbox One, 19m). Unfortunately, the Wii U still struggles from a dearth of software titles available, even if there are several very high quality first party releases.
Mario Maker was only just released in September and Splatoon was released in May. Both Splatoon and Super Mario Maker have room to sell additional units and will likely end up near 4.5-6m total units comparable to Mario Kart or New Super Mario Bros U. Yoshi's Wooly World was also a solid performer with 1.3m units sold and a likely target of 2-3m units sold in total over the next year.
The lean holiday software lineup is evidence that this is a slow period for Nintendo as they ramp up mobile and NX for 2016 and rely on the 3ds and Wii U to carry them over the bridge.
The only significant upcoming software releases for the Wii U are the Zelda games (a re-release of Twilight Princess in March 2016 and an entirely new Zelda game sometime in 2016 TBD). The Twilight re-release will be a decent seller, but the new "open world" concept Zelda game will be a system mover and should sell in line with some of the consoles other major titles. It is somewhat unfortunately that the new Zelda game is releasing so late in the Wii U's life, but I believe there is a good chance it will also be available on the NX either natively or through Wii U backwards compatibility.
Other than the Zelda games, the only notable Wii U titles on the horizon are the experimental "project guard" and "project giant robot" which are Miyamoto wild cards. There is a strong possibility that both of these projects will end up either cancelled or in some form or another on the NX.
The Future Outlook
It is clear to me that the Wii U and 3ds are nearly out of runway and that 2016-2017 will be a transition period into the mobile strategy and NX. Nintendo says they will maintain attention on the Wii U but I believe it will be quickly abandoned soon after the NX console comes online. The mobile strategy has significant potential if Nintendo handles it correctly, but as of now no real details have been revealed (other than the initial mobile release sometime in March — "Miitomo" and a "game featuring a major Nintendo character" sometime thereafter)
Nintendo has more than enough cash and recurring revenues/profits to exist as a low-growth, stable company until the NX releases. This earnings report highlights for me the tremendous importance the success of the NX means to the company. Perhaps we will find out more at this years E3 or in an upcoming Nintendo direct. An investment in Nintendo today is basically a speculative bet that the NX will be a success, or at worst a superior console to the Wii U and a replacement for the 3ds. I'm bullish on the prospects of Nintendo as they are still the most innovative video game company on the planet, but if the NX is less than impressive or not received well the next cycle is going to be very difficult for the big N.
Disclosure: I am/we are long NTDOY.
I wrote this article myself, and it expresses my own opinions. I am not receiving compensation for it (other than from Seeking Alpha). I have no business relationship with any company whose stock is mentioned in this article.
Editor's Note: This article discusses one or more securities that do not trade on a major U.S. exchange. Please be aware of the risks associated with these stocks.
Article originally posted on Seeking Alpha