Summary
Notify is presenting itself as unpopular and lacking a value add component.
A continued lack of monetization is frustrating as the company tries to perfect WhatsApp and Messenger.
High expectations for growth could backfire on the company's stock come future earnings seasons.
We can only speculate so far on Marc Andreessen's recent selling of 73% of his shares in Facebook (NASDAQ:FB). If you were look at this company on January 1, 2015, you saw the stock struggling around the $80 level with no clear future direction. Had you taken a gamble and bet on the company surpassing even its own expectations, you would've seen the stock perform exceptionally YTD, up some 35.32%. The question is, as we move through Q4 and into 2016, are we sitting on the small plateau of another strong 10-month trend? I'd argue yes, and you can view my bullish cases here and here. However, I believe there are certain things significantly holding the company from reaching its true potential.
(click to enlarge)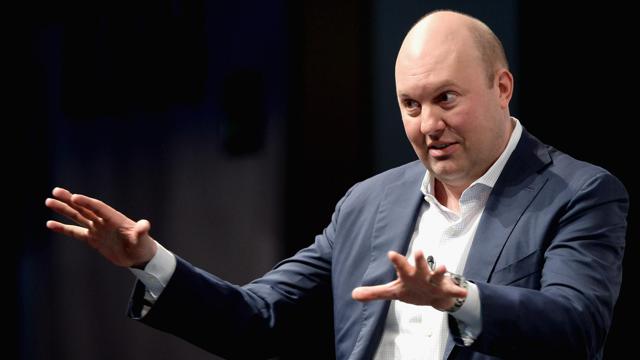 Click to enlarge
Source: Forbes
Increasing Expectations
Despite Facebook's all-around tremendous growth in the last few years, visible in both the top and bottom lines, as well as improved cash flows, the company has begun to set a high bar for itself. For example:
Ad revenue growth up 45% YOY, 57% on a constant-currency basis
Total MAU growth up 14% YOY now at 1.55 billion
Mobile MAUs up 23% YOY
Mobile DAUs up 27% YOY
EPS up to $0.31 on net income of $896 million
It's going to be difficult for the analyst community to gauge how these numbers begin to level off. The speculation will draw to a viable range, but even then the company could miss wide or surpass for a few more quarters. If the latter is the case, we'll likely see a run up in the stock like we saw this year. However, if we see the former, we have a situation like what's going on at Apple (NASDAQ:AAPL). Despite the company still on track to sell tens of millions, the growth is beginning to level off.
Herein lies a caveat. While the stock will retreat on decreased growth versus 2015 comps, the stock will find its fair value to be much lower. The company will face easier comps the year prior and averaging into a position at that lower level will be lucrative for the quarters following. It's an expectation game and I believe Facebook's numbers are beginning to top out, increasing the likelihood of earnings misses this upcoming year.
Continued Lack of Monetization
As each quarter goes by, what does Facebook miss out on in terms of ad revenue from WhatsApp and Messenger? Well, let's try and think of this in terms of what Instagram generates in revenue per year.
Instagram has 400 million MAUs and climbing and is on track to do $600 million in ad revenue this year. If we scaled those to WhatsApp and Messenger, having 900 million and 700 million MAUs, respectively, the company is missing out on $1.35 billion and $1.05 billion, respectively, in annual revenue. That's substantial and they need to recover the $20 billion price tag of WhatsApp, which has been the subject of much criticism. Additionally, Instagram is projected to increase revenue from ads by 2.5x next year to $1.5 billion. That's a multiple that could be presently applied to both WhatsApp and Messenger, but instead Zuckerberg has made it clear that until these products are refined to the maximum, ad revenue will be on the back burner.
Facebook is concerned that if they try and monetize these apps too soon while they're still growing at a high rate that users will withdraw. If we think about the company's game plan after the Q2 report, management stated that they wanted to "get people organically interacting with businesses before you let companies pay to reach customers." The fact of the matter is that the timeline has to be sped up before shareholders become too dissatisfied.
Monetizing these two apps is a challenge as they are text-focused applications. Thus, that's where businesses come in and Zuckerberg's push for Facebook to be an e-commerce one-click buy hub comes in to play. Businesses will be able to contact individual shoppers directly, send extensive messages about new products, much like an e-mail offering, but with the well-curated benefit of push notifications and more personalization.
Notify
If you go onto the App Store, the 11th review on Facebook's new news application, Notify, is "What's the point of this app?" It's not even in the top 150 downloaded free apps. You can see for yourself in just a quick tap or view the trend here.
Ventures like this question whether or not Facebook is trying to diversify too quickly. While I've made it known that I like the growth potential in the diversification into the product space via the Oculus Rift, I'm not so keen on Notify. Yes, it's a chance for the company to rival Twitter (NYSE:TWTR) and arguably diminishes Twitter's value-add component if Facebook can re-invent the platform so quick but I don't think this app is the next big thing Facebook is looking for. Further complaints show that it uses up too much data and that the news sources it has contracted are incredibly limited in scope. Thus, Twitter still remains a better source for quick news as virtually every major network/source has its own page with real-time updates.
Furthermore, the app attempts to take on Apple News, which is already directly integrated with every new iPhone model. Trying to adopt a following amid heavy competition is a challenge all its own.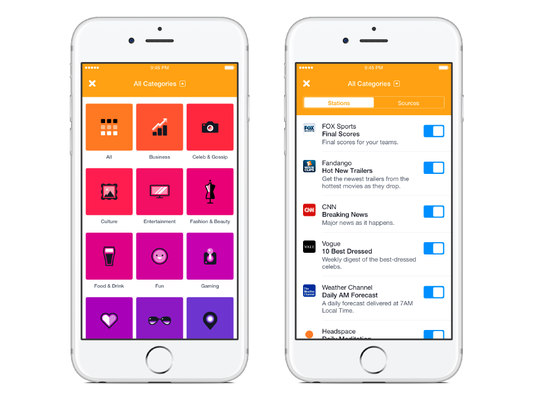 Source: USA Today
The app is currently not available for Android devices, which limits its user base. And who knows, maybe the app would have more success on that platform as Apple News isn't present there. Furthermore, users are currently complaining about location services and continual prompts on Apple devices, so a bug fix could certainly tune the product. We currently do not have any figures on how many downloads the app has received and likely won't until the Q4 earnings call.
The development costs could be better spent speeding up the perfection process for the WhatsApp and Messenger platforms. Notify could likely turn into another scenario where shareholders are disappointed that an app isn't monetized.
A Stagnant Chart
We're really seeing Facebook having a hard time gaining a clear trend line and breaking the $107.50 level since the Q3 earnings report. This company is well past its 50 and 200 DMAs, is close to perfectly neutral on the RSI, is seeing lower, more stable volumes, and really has a solid technical basis to pop up. Below you can see the some of the more flat trends and as an added focus take a look at the October to November run up and just how substantial that growth period was. The stagnation post earnings is really what makes me questions this stock's ability, especially if in a future quarter the company fails to live up to expectations.

(click to enlarge)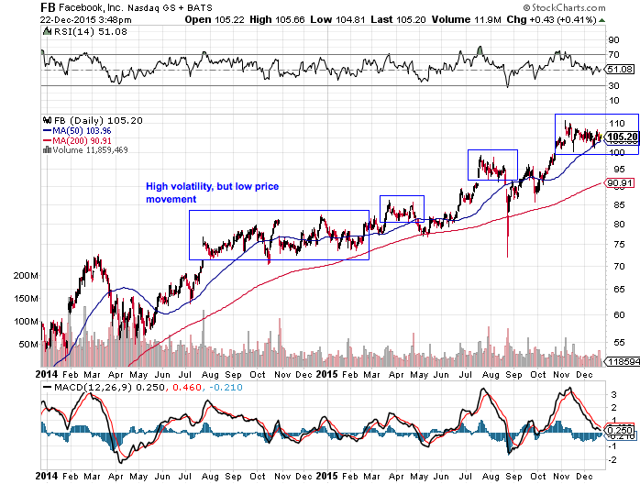 Click to enlarge
Source: StockCharts
Conclusion
In terms of other downward catalysts, one could argue that the lack of transparency on their expansion into Africa is concerning (after all, the word "Africa" is only mentioned once on their Q3 10-Q), and that the tech premium that places the stock at a P/E of 106.06 is a target for when the broader market begins to experience a downturn. I will be covering these concerns in Part II.
All downside considered, I'm long Facebook because I believe in management, the core product, the growth initiatives in other areas like Oculus, and a continued emphasis on innovation.
The above article originally appeared on Seeking Alpha, written by Brandon Dempster.